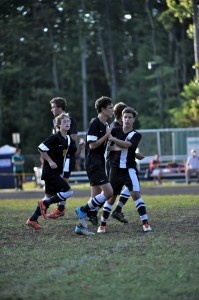 The Washington Catholic Athletic Conference (WCAC) released the 2013 boys' all conference honorees this week, selecting two teams of players and honorably mentioning others.
The Cardinals landed a pair of on the prestigious first team, senior goal keeper, Andrew Perham, a four-year varsity player for the redbirds, and junior Nick Ducceschi, whose three game winning goals were a team high this season.
Bishop Ireton also had a pair of players on the Conference's second team, senior Spencer Amarantides, a defender, and sophomore forward, Preston Haugh.  The WCAC honorably mentioned Cardinals Joey Faddoul, Shahin Azar, and Kyle Delaney.
Good Counsel's Alessandro Burlew was named the league's player of the year. Cardinal fans will remember him as the goal scorer late in their match with the Falcons that allowed the Olney team to escape Alexandria with a 1-1 tie during the regular season.  Coach of the year honors went to Paul VI's Matt Leiva.
"We easily could have had more players on these lists and higher on the list than they received." said Ireton's skipper, Jon Norem. "But the league is extremely balanced this year and loaded with talent.  There are a number of great high school soccer players on the honorable mention list or perhaps not listed at all."
The list of teams and Bishop Ireton honorable mentions:
First team
Matt Harder PVI keeper
ANDREW PERHAM BISHOP IRETON keeper
Avery Beddard  Gonzaga
Charlie Toch Gonzaga
Oscar Gonzalez PVI
Jimmy skipper PVI
Colin Travis SMR
Nic Finelli SJC
Juan Ramirez SJC
Alessandro Burlew Good Counsel
Arion Sobers DeMatha
Austin (AJ) Reed DeMatha
Brian Tesch DJO
NICK DUCCESCHI BISHOP IRETON
Gabe Jenkins Bishop McNamara
SECOND TEAM
Keegan Myer DeMatha keeper
Michael Hurley DJO keeper
Phillip Littleton Gonzaga
Grant Johnson Gonzaga
Cameron Hossenian PVI
Giorgio Donatoni SMR
Steve Harlan SJC
Matthew Kirchoff Good Counsel
Alex LaNoire Good Counsel
Brendan Burke DeMatha
Mike McCoy DeMatha
Koby Osei-Wuso DeMatha
David Salas DJO
SPENCER AMARANTIDES BISHOP IRETON
PRESTON HAUGH BISHOP IRETON
Shawn Sookdeo Bishop McNamara
Bishop Ireton Honorable Mention:
Joey Faddoul
Shahin Azar
Kyle Delaney